The second in command, from the Buenos Aires Penitentiary Service, spoke out in favor of the work of our space, after meeting him in person.
Accompanied by his team and the prison chiefs of the East Complex, and the units that make it up, Liberté arrived in our territory, being received by the management of our cooperative and the productive pole, in this case, "pampa y carlitos". president of the institution and secretary, respectively.
Regarding our work cooperative, the high prison chief spoke about the ups and downs that he knew how to overcome since the dawn, but that today, he is seeing its fruits, and said:
Details

Category: News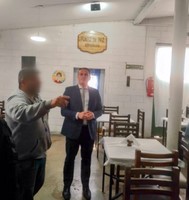 The Chief of the Penitentiary Service of the province of Buenos Aires, Dr. Xavier Areses, arrived at unit 15 of Batán, and entered the Liberté territory, where after touring it, he was able to verify the progress of the daily self-management of our entity.
In dialogue with Prensa Liberté, he pointed out: we are touring, seeing the notable advances that have been registered in different areas of activities, which they develop and very happy and very satisfied with everything that has been done, which gives us the strength to continue developing this. I think that there has been a very interesting synergy between different areas of society, which somehow collaborate, contribute ideas, INTA, with all its training, it is incredible how the garden has grown, it is incredible how the textile workshop has grown, as the path to follow has been widening.
Details

Category: News