Home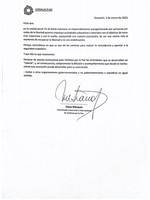 A few hours after being recognized by the Argentine Association of Criminal Execution Judges as the engine of change for those who today find themselves in prison, another entity joins.
Victims for Peace, a group of crime victims created by the late judge Mario Juliano and an important arm of the Penal Thought Association, is involved in accompanying prisoners to achieve their integration into the social fabric and create spaces for peaceful coexistence. dream shared reciprocally by both spaces.
Accompanying this spirit, it has chosen to institutionally recognize the task that is carried out daily from the Liberté territory, which translates into constant actions of permanent growth.
Details

Category: News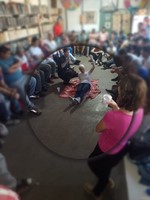 It took place in our library with the presence of numerous members of Liberté and where two professors from the University of Health Sciences and Social Work, for more than two hours, provided knowledge of CPR.
The professor, specialized in health, Matías Leda, spoke with us, at the end of the educational day, in this workshop, which corresponds to the third class, of the chair organized by the extension secretary of the University of Health Sciences and Social Work , dependent on the National University of Mar del Plata and Liberté.
Details

Category: News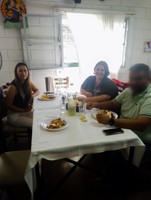 Community mediators experienced what it means to know Liberté
Dolores Ayerdi, works in the Ombudsman's Office, of the Province of Buenos Aires, in the Provincial Capital, La Plata, and is a community mediator, while Natalia Messineo, Center for Access to Justice, of the Ministry of Justice for Human Rights, of the Nation, community mediator.
Personally I do some dialogue experiences, Ayerdi mentions to us, while we shared this conversation in Liberté's restaurant room, "Punto de Paz".
Details

Category: News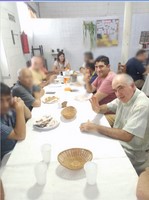 A day full of emotions, where solidarity was expressed with those who need it most in the context of confinement. As in the whole world every November 29, an act of love is carried out, to remind us that it is the same act that we must practice every day, thinking of the other and shedding our garments of selfishness and laziness, aware of what that we do or wrapped in an unconsciousness carried by ignorance, which does not allow us to see the shortcomings of others and the wealth of being able to give, which lives in each one of us.
In our Liberté was a collaborator, the renowned professor of plastic arts, Betina Ferrara, involved since the dawn of space, who arrived with the noble idea of solidarity. The previous debate within our space was opened and it was agreed to put it into practice in a way adapted to the confinement circumstance, thinking of the "pariah" people, whose meaning indicates, who are those people excluded from the benefits that others enjoy, and are even mistreated when they are ignored by the type of treatment, for being considered inferior.
Details

Category: News