Home
The Magistrate, who arrived at Penal Unit 15 of Batán, to inspect in person, along with other members of the Prison Monitoring Committee, specifically the issue of health, bromatology, going through the prison kitchen, warehouse and other areas involved and so on. take real knowledge of how the health service and the issue of food are being fulfilled, a situation that will be finally specified, after the collection of samples and the analysis and discussion within the intervening evaluation commission.
Although he toured some pavilions, together with some food science inspectors and officials from La Plata, to assess the health situation of the prisoners, he did not miss the opportunity to reach the Liberté territory, located right inside the prison.
With the workers of Liberté
Details

Category: News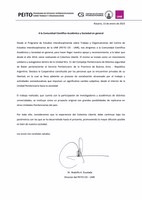 Once again, our organization, which works self-managed, from the very bowels of a maximum security prison (Batán prison), continues to receive recognition.
This time it comes from the Program for Interdisciplinary Studies on Work and Organizations of the Center for Interdisciplinary Studies of the National University of Rosario (PEITO CEI - UNR).
Details

Category: News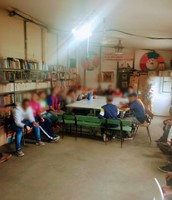 In an effort to get out of the shadows that represent ignorance, today training is provided in our entity, through a workshop that deals with what access to justice is and also provides knowledge regarding outpatient treatment.
Lucas, is a comrade who has been imprisoned in the Batán prison for some time and has been working at Liberté for about nine months. He began his work as a gardener, and then moved to the warehouse, where he performs administrative tasks to this day.
But his interest in carrying out activities within the structure does not end there, therefore, he decided to undertake, with the consent of the cooperative authorities, a workshop related to what access to justice means.
Details

Category: News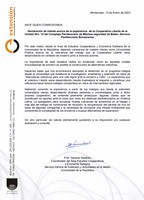 The Minister of Justice of the Nation Martín Soria, the Nobel Peace Prize winner Adolfo Perez Esquivel, the referent of Abuelas Buscarita Roa, the director of the International Center for the Promotion of Human Rights CIPDH-UNESCO Fernanda Gil Lozano and the President of the Alberto Fernández Nation opportunely announced the holding of the forum.
Details

Category: News