Home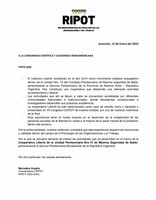 On this occasion it is the Ibero-American Network of Organizational and Work Psychology, who express themselves regarding our organization, specifically what the self-managed cooperative model represents from the very bowels of a maximum security prison such as Unit 15 of Batán, in the district of Gral. Pueyrredón, and they make it known with a document, which has a date of preparation, a few days ago in Asunción, Paraguay.
Details

Category: News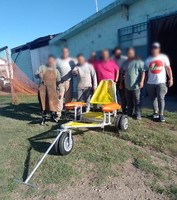 It was within the framework of the launch of the INADI National Anti-Discrimination Campaign.
It will be used in Buenos Aires spas this summer 2023 and is entirely built with our own resources, in the workshops of our work cooperative, one hundred percent self-managed by prisoners.
It was presented in the city of Miramar a few hours ago at the opening ceremony of the launch of the 2023 anti-discrimination campaign of INADI, (National Institute against Discrimination, Xenophobia and Racism), where the Mayor of the place was presented with the chair made by prisoners of our Liberté space.
Details

Category: News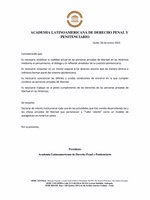 It was the Latin American Academy of Criminal and Penitentiary Law, who assumed this attitude, considering that a mental, reflective and dialogue review should be carried out, in order to join the legs of the same table, related to the penitentiary system, directly or indirectly, observing the difficult living conditions of those deprived of liberty, in the different prisons of Latin America.
For this reason, it is considered necessary to work so that the rights of prisoners are fulfilled.
Details

Category: News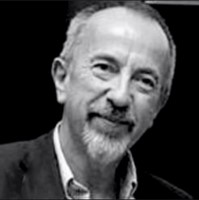 On December 20, during the extraordinary meeting of the Batán UP15 Committee, precisely at the time that two proposals for visiting days were being discussed, whether to continue with the format that was used during the pandemic or return to the system Prior to the protocol, installed for the prevention of the Corona Virus, in the midst of a heated discussion, the reflective word of Diana Márquez, member of the organization, and coordinator of Victims for La Paz, emerged, who alluded to the anniversary, (that same day). , of the birth of the late Judge Mario Juliano, who was since its creation, a strong support for Liberté, on his way to rediscover the dignity of those deprived of liberty, for this reason he was and will continue to be forever, the godfather of our institution.
Details

Category: News